Spark breweries and distilleries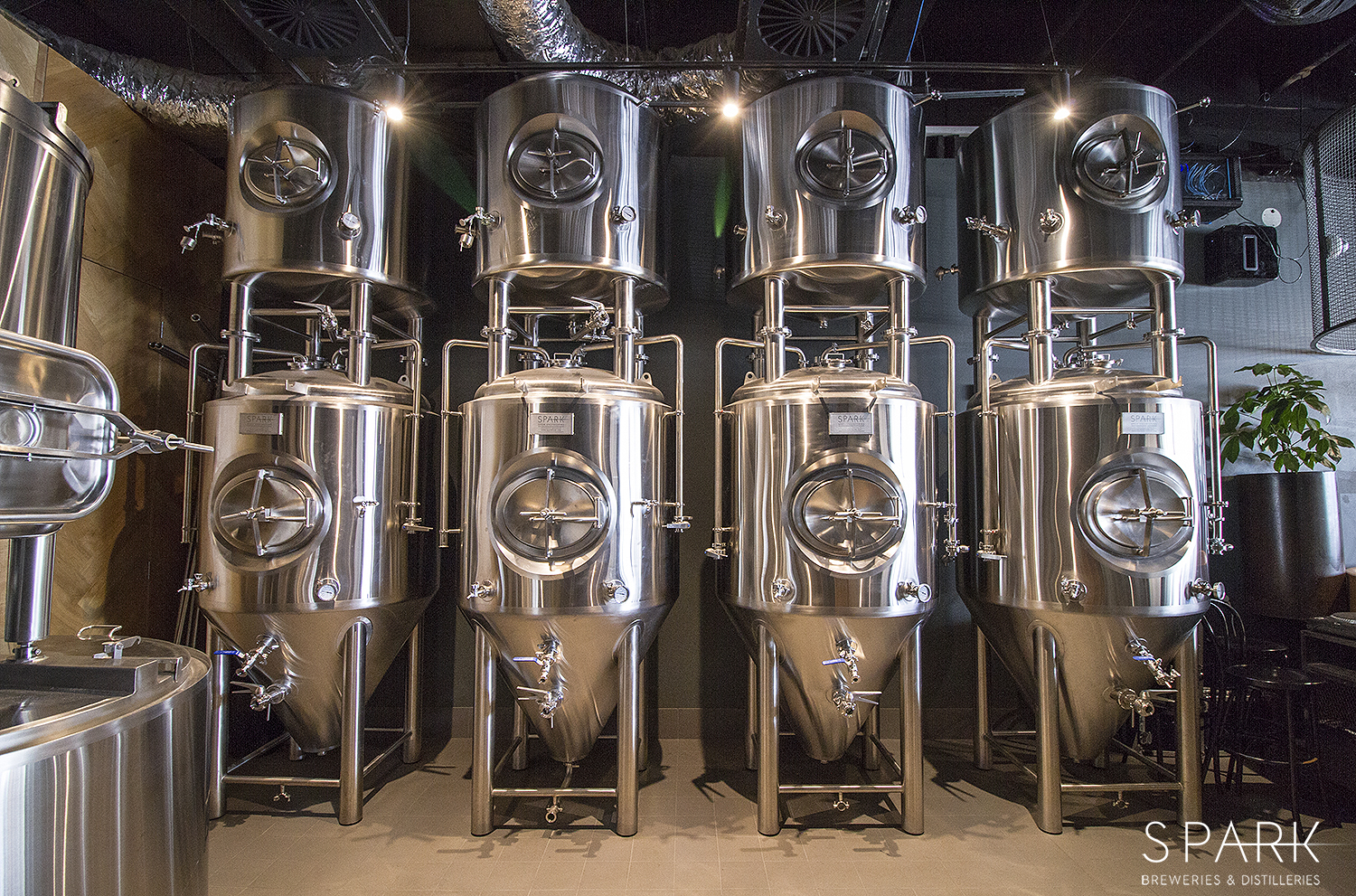 Business modeL, site selection and licensing
Sauce Brewing Co in Marrickville, Sydney has a large 20 hL distributing brewery and enough space for a bar inside as well as a relaxed beer garden.
A clear business plan: the first step towards selecting site and brewing system
There are two professional brewing business models:
1. Brew on premise - any newly licenced brewing company and most existing venues that sell 10 kegs a week can improve their profitability by brewing.
● The small brewer's excise rebate and Spark's equipment finance assist with making this happen.
● Clear differentiation from competitors, with local keg distribution and growler take aways as additional revenue streams.
● Requires a compact inexpensive brewing system that is easy to install and operate (SPARK K5).
● Saves capital, space and time: the compact K5 design allows brewing, fermenting and serving from tanks built above fermenters: no need for messy, expensive and wasteful kegging, bottling or canning.
● Your beer is presented in perfect, fresh condition, as it has not been exposed to light, heat or oxygen.
● Drinkers of independent beer are a high growth, future relevant demographic.
● Brewpubs are more popular with female clients than traditional pubs.
2. Distribution brewing - requires kegging and packaging for relatively low margin, high
volume distribution, typically through third party wholesalers, distributors and retailers.
● Relies on low unit cost of production via a large brewing system designed for multi
batching each day up to double or quad batch fermenters.
● Our smoothly welded tanks and ergonomic layout help make brewing and cleaning easier.
Site selection
By focusing clearly on your chosen business model, you can pick a site that is ideal for your purposes and design a brewing system to ensure that you establish strongly and then grow easily and profitably. With a strong track record in both brewing and distilling systems, Spark can help you deal with the technical and financial aspects of achieving not just a brewery, but a successful brewing business.

The three tiers of brewing regulation in Australia:
1. Federal ATO excise licence to produce beer - this requires a fit and proper person check on personnel and defines a bonded area within the production facility.
Excise must be paid on product that leaves this area or is consumed on site. Calibrated measurement and detailed auditable records must track each step of production and packaging between malt in through to beer out.
2. State issued Liquor Licence to sell beer - regulates hours of operation and maximum number of people permitted in the venue.
3. Local Council planning permission for use of the land for brewing - considers potential impact on others in the area.
As with anything, there is both an easy way and a hard way to achieve the licences and permissions required. They are critical and should be approached with prior education, forethought and respect. Remember to allow time for your licenses to be processed.
Spark Breweries and Distilleries is a Melbourne based engineering practice that works across the country.
Technology arms dealers in the guerrilla war for flavour, we build Sharp Tools for Artisans.
brewery design, installation and startup
Brewhouse and fermentation cellar design should be related directly to your intended business model. Expansion is often more about forethought than money - by planning for success, you can make future expansion smooth and simple.
The amount of beer you can brew in a week is the same number of kegs as you have hL of cellar space.
E.g. if your fermentation cellar is 2 x 10hL (one hectolitre is 100L), your 20hL (2,000L) of cellar space will make 20 ale kegs per week.
1. Brewing for serving on site
Optimise your brewery for space efficiency and good looks by dispensing your draft beer directly from serving tanks mounted above fermenters. This set up allows single batch brewing within a day. Instantaneous hot water systems and two stage (water & glycol) plate heat exchangers can avoid the need for hot and cold liquor tuns, saving capital and space.
The rule of thirds for the layout of a compact on site brewery: 1/3 of the space wet area for the brewery, 1/3 for circulation, 1/3 for serving.
Flip through one page to an interview with Julian in Australian Hotelier about the benefits of the brewpub model
2. Brewing for distribution
Design for low energy costs and high output for every brewing hour.
3 or 4 vessel brewhouse configured with thermal stores for daily multi batching.
Thoughtful glycol system design to make it easy to add extra tanks as your sales increase.
Double or quad batch fermenters can be installed initially or added later.
To the left Sauce Beer's 20hL brewhouse with canning line and brewpub in Marrickville, Sydney.
plan before you build
There are some important aspects of building fit out that are easy to include from the beginning, but expensive to have to retrofit at a later date such as wastewater treatment buffer tanks. This allows you to comply with any EPA requirements for cool, neutral pH effluent with low biological oxygen demand.
The complete installed cost of a brewing system in operation is many times higher than the basic price of steel tanks - a control system that is well designed and locally constructed can backload a significant part of installation cost onto the equipment list (which can be financed), as all expensive electrical control hardware can be included upfront - this reduces the time and cost for installation.
Glycol and steam systems should be selected and designed to work well with your brewing system - reliability and maintainability are key once you are in operation.
Critical Success Factors
Although it has been said that the crucial top three success factors in the brewing industry are selling beer, selling beer and selling beer, there are some additional things that could also be considered:
Planning
As the heart of a comprehensive business plan, get an accurate understanding of the costs of production for your chosen business model.
Staff, power, equipment finance costs (approximately $7,000 per month for a complete 10hL brewing system) and rent can be added to a basic $75 per keg for ingredient and excise with small brewer's rebate.
You could budget on a wholesale price of $275 per keg and retail (served on tap) of $1,000. Note the breakeven sales volume that will take you into profit and ensure that your business plan directly supports you achieving that as soon as possible.
Branding
As the embodiment of what you and your work stands for, clear, bold and consistent branding is important for standing out in an increasingly crowded marketplace.
Tap sales
You'll need to achieve 5 times the volume in distribution to make the same profit that you will via your own taps, so including a strong tap room in your plans gives you full margin revenue as well as a location to anchor your brand and organise consumer engagement events.
Equipment reliability
Real world success relies on your equipment being selected and installed in a way that ensure that it will operate reliably and can be maintained and repaired. The lowest cost option on day one is unlikely to actually end up being the lowest cost option after a year of brewing. No one with many year of experience in professional brewing, after multiple plant expansion projects, is choosing cheap equipment, for very good reason.
Quality Equipment
Steel comes in many different qualities of manufacture and finish. A well made tank will not only look good, more importantly it will be durable and easy to clean, making your brewer's work quicker and easier and safeguarding your beer from contamination from previous batches.
digital controls
Give you all the details of your brew clearly at your fingertips and ensure that your superstar brewer can be busy designing your next beer, while the controls take care of making your beer correctly every time.
beer quality
Pivotal for the health of the industry as a whole, to justify consumer's payment for and respect of our beer, a professional Quality Management based approach is needed for production. Much has been written on this and many training courses are available. A simple system need not require a prohibitively high laboratory equipment cost.
As our brewing industry re-fragments after a century of consolidation, there are many opportunities, with the right information and planning, to start and grow profitable brewing businesses that will be cultural assets for their region for generations.